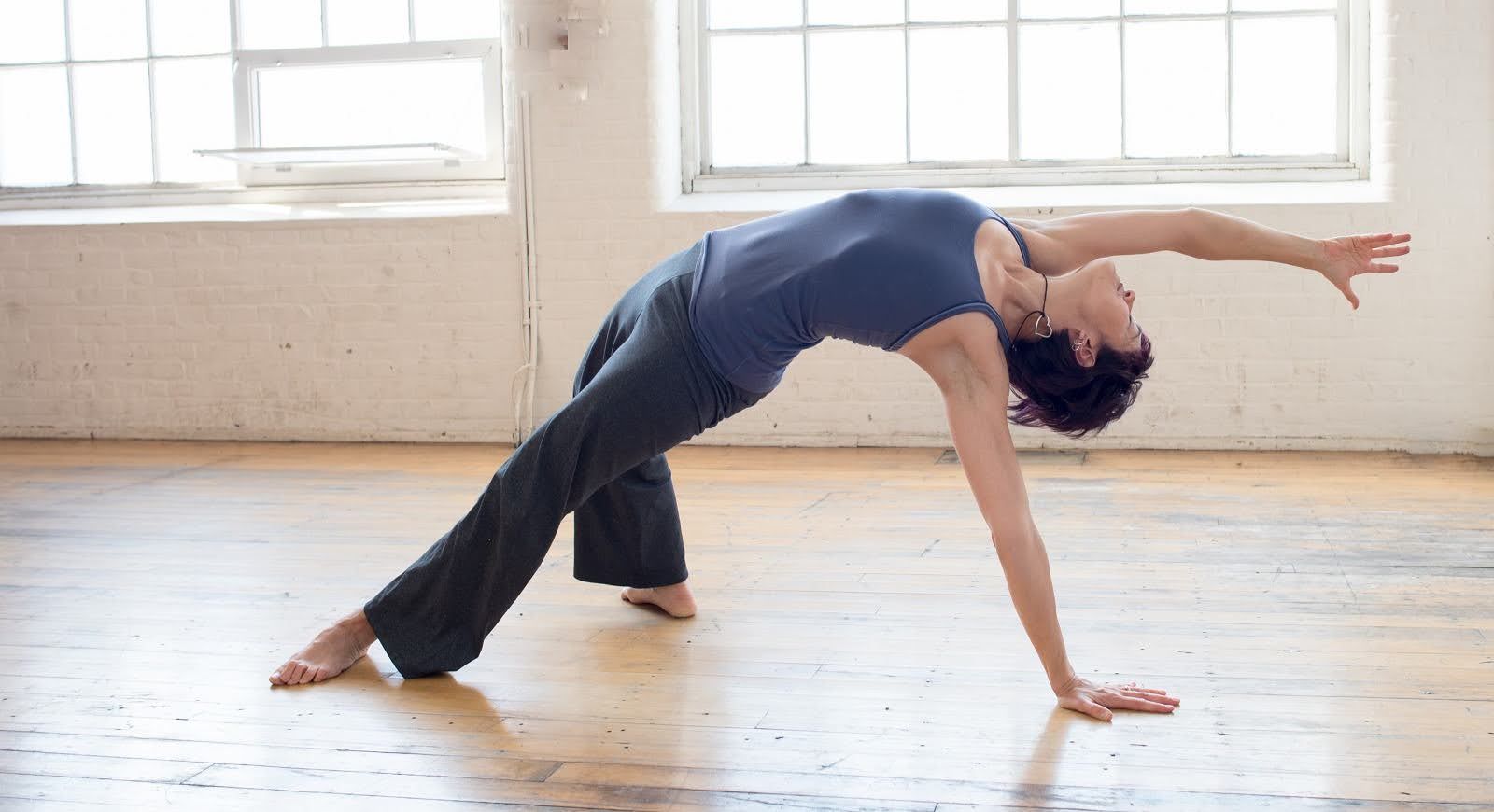 Yoga has been a part of my life, in some way, shape, or form since I was a kid. I first experienced yoga as a 4-year-old watching Lilias Folan on TV - it didn't take as my older brother would always sit on top of me in halasana (plow pose). I found it again in high school as part of my phys-ed class.  I was stressed out, recovering from an eating disorder, trying to find my way through teenage identity crises, as well as trying to juggle a full load of classes and extra-curricular activities .  I LOVED practicing yoga – even if it was in a small storage closet filled with cones, hoola hoops and soccer balls.  It didn't matter where we were, it was the intention of practicing, and breathing, and moving that meant so much to me.  It was this time of gentle movement, of quiet reflection, of not being judged or having to prove myself that mattered most.  I was so grateful for that time. 
The third time, however, was the charm: I turned to yoga as a respite in the middle of a hectic life, juggling an acting career of rehearsals, performances, and auditions; paying work; married life; and more. As I flowed from shape to shape, breath to breath, I realized the power of the practice to help me find connection and peace within my body and mind. I found it easier to let go of tension and stress, balance the demands of my professional and personal lives, and very simply, just be myself.
The more I practiced, the more I felt at ease, a deep sense of peace taking root within me, a feeling that my life was right and full of possibility. Through my studies at various yoga studios in New York City, I was inspired to develop my own home practice, which is where I teach from today.
I love moving with my breath and exploring how the body can develop strength while maintaining a sense of flexibility and freedom. I also love the deepening awareness the practice encourages. To that end, my intention is to create centering and reflective yoga classes that are infused with thoughtful, playful, and creative asana sequencing, deep, mindful breathing, and skillful alignment principles, with yoga philosophies woven throughout in an accessible way. I provide a safe and supportive environment where students can let go of the day-to-day stresses as well as reconnect with themselves more fully in their own personal practice.
As with yoga, Reiki came to me at a time when I needed support. I began with a self-care Reiki practice, but the simple beauty of breathing and sensitizing myself to others' energies called to me to share this practice. I loved the idea that there was yet one more way I could help people become more aware of their bodies and the energy within it.
My deepest desire is to share these practices of yoga and Reiki so that you too can feel what it is like to be free of tension and stress, to realize your wholeness and perfection, to connect again with the truest, best version of yourself, and so that you can experience what I think of as BLISS – that place where you feel free and quiet and spacious, fully at ease in your body, mind and heart. That place where you feel the fullness of life and see where you are heading without grasping or forcing.
200 Hour Yoga Certification - Laughing Lotus Yoga Center, NYC – Dana Flynn, Jasmine Tarkeshi
Advanced Relax and Renew Restorative Yoga Trainer Certification - Judith Lasater
108 Hour Musculo-skeletal and Kinesiology Certification -  Zenyasa Yoga, NYC - Jason Brown 
Corrective Exercise Specialist - National Academy of Sports Medicine
Reiki Master - Open Center, NYC - Joanna Crespo